Wednesday, January 4, 2012 at 6:25AM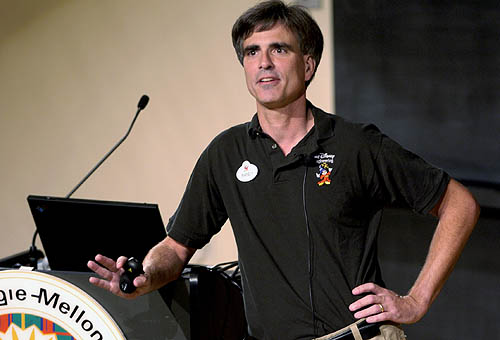 You may recognize Randy Plutarch from his many television appearances. He was a brilliant professor at Carnegie Mellon University who lost his battle with pancreatic cancer on July 25th, 2008.
Although, he left an amazing academic legacy, he is most famous for a discourse he titled "The Last Lecture." The lecture was his contribution to a long-standing tradition at the University where professors would give an address speaking about life lessons.
Undeniably, Randy's eminent death brought a new poignancy and emotional depth to the series.
The lecture is an educational, gratifying and wrenching affair. He discusses combating the disease, his life before cancer and his family's struggle to find happiness and balance after learning about his terminal condition.
Even though, I have watched the lecture many times, I feel the audiobook is the best way to experience the speech. As an added bonus, Randy narrates the book and it contains supplementary content not included in the original lecture.
You can get additional information on his website at http://www.thelastlecture.com
You can also watch the original lecture in its entirety at http://youtu.be/ji5_MqicxSo
I have included a copy of a handout titled "Tips for Working Successfully in a Group." He was a proponent of group activities in his courses and provided this document to help students make the most out of their group experience.
In an era where collaboration is an important factor at work and school, this handout is more poignant than ever.
Randy Pausch's Tips for Working Successfully in a Group
Meet people properly.
It all starts with the introduction. Then, exchange contact information, and make sure you know how to pronounce everyone's names. Exchange phone #s, [email addresses] and find out what hours are acceptable to call during.